Publication - Representing architecture by hand
By Jacques-Jonas Ziegler, Catherine Simonet, Guillaume Nicolas, Marc de Fouquet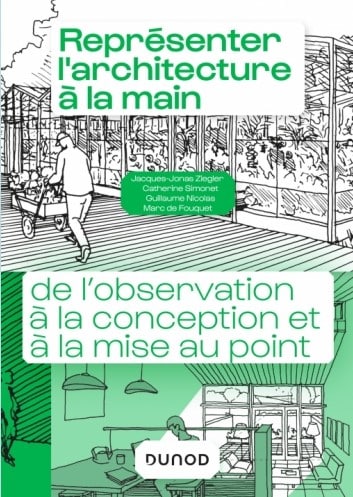 This book has been designed by four professors at the Écoles Nationales d'Architecture, combining their skills as architects, engineers and perspective artists/illustrators.
It teaches you what you need to master "by hand" in an age when most representation is computer-aided. However, sketching, focusing, freehand argumentation and spontaneous drawing are of paramount value and remain of great strength.
This book, illustrated on every page with original drawings, can be used in many different ways. It's a graphic novel to be read in its continuity, by theme, or by question.
In this book, you'll learn how to:
- Transcribe by hand, through a perspective sketch, the real space in which you are immersed.
- Quickly visualize a space being designed, thanks to the perspective grid method extensively developed here.
- Study and fine-tune your project using geometrics: cross-sections, planes, planes and axonometrics.
- Draw shadows, under the sun, exactly.
- Get to grips with drawing tools.
For more information, click HERE